The COVID-19 pandemic caused the airline industry to plummet last year. This was reflected in the -30% performance of the U.S. Global Jets ETF (JETS) in 2020.
However, things are looking up for airline stocks in 2021. With more than 50% of Americans fully vaccinated, travelers are returning to the skies, with airlines seeing strong bookings. 
This trend is likely to continue, as people who have been cooped up in their homes are itching to go on vacation and see their extended families.  With this in mind, today we're going to take at three airline stocks that are poised to benefit from this: American Airlines Group (AAL), Spirit Airlines (SAVE), and JetBlue Airways Corporation (JBLU).
American Airlines Group (AAL):
AAL is one of the most established airlines in the U.S., serving north of 300 airports across the globe. The airliner has domestic hubs in Chicago, Denver, Houston, Los Angeles, Newark, New Jersey, San Francisco, and Washington D.C. AAL has the largest market share, with a decent 19.3% in 2020.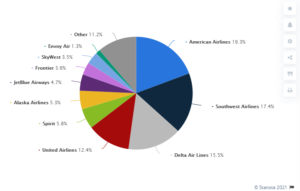 Source: Statista
Year-to-date AAL shares have jumped 54% to $24.33, but there is still room to grow, as demand for travel ramps up. The airliner acknowledged in its latest regulatory filing, that bookings from corporate customers are picking up. 
AAL has started to generate cash in May, for the first time since the beginning of the pandemic, and expects to end the second quarter with liquidity above $20b, versus an initial guidance of $19.5b. 
Spirit Airlines (SAVE):
SAVE is the fifth largest airline in the U.S. by market share, occupying 5.8% of the total market in 2020. The company flies to 59 destinations, mostly in the U.S., but also the Caribbean, and Latin America. 
Since the beginning of the year, SAVE shares lifted 44% to $35.40 per share, yet with the recovery in air-travel demand, there is still potential in the months to come. 
Thanks to its exposure to the U.S. markets, the company is less affected by global travel restrictions, as vaccinations increase and coronavirus-led restrictions ease in the United States.
SAVE anticipates only a small decrease in capacity in the second quarter of 2021, down 5.5% compared to the same period in 2019, placing it in a good position to return to pre-pandemic levels by this summer.
In terms of financials, net sales are expected to reach $3.19b in 2021, corresponding with a 16.5% decrease compared to pre-pandemic level of $3.8b.
JetBlue Airways Corporation (JBLU):
JetBlue Airways Corp. provides transportation to more than 40 million customers a year to 102 cities. It is the seventh largest airline in the U.S. with a total market share of 4.7%. The company operates mainly in the U.S. but also has some routes in the Caribbean and South America. JBLU has also a leading position in the airports of Boston, Los Angeles, Fort Lauderdale, Florida, and San Juan, Puerto Rico.
Shares of JBLU lifted 31.50% year-to-date to $19.12 per share and are close to reaching pre-Covid19 levels. Wall Street analysts are bullish on the company, with the average price target for JBLU about 20% higher than where it's currently trading.
Though JBLU's net sales dropped a whopping 30.7% to $5.6b in 2021 versus $8.09b in 2019, this is mainly attributable to higher capital expenditures that have surged 17.1% year on year to $927m and indicating that the company is looking to boost its market share after the end of the pandemic. And though JBLU's net income is not expected to turn positive this year, the company has succeeded in reducing its net loss threefold from $1.3b in 2020 to $322m in 2021.